News
The new Link G4X Range of ECU's are here!

Exhilaration starts here!
Link's latest platform, G4X, is headlined by a faster microprocessor, high speed communications chip and 512 Megabytes of data logging across the entire product range.
This range includes the AtomX, MonsoonX, StormX, XtremeX and FuryX WireIn ECUs, plus the entire PlugInX category. Link's PlugIn ECUs remain unique in that they are a true "Plug n Play" solution, using the car's factory (OEM) wiring loom. No messy adapter harnesses required.
There are some performance improvements seen in G4X that Link is Xtremely proud of (pun intended).
Well, we guess you are to find out exactly what these changes are!
Compared to G4+ ECUs, ALL G4X ECUs feature:
A faster Micro controller

 

- meaning your engine will run smoother, accelerate faster and act more responsively
An upgraded Communications Chip

 

-  sees download speeds 16 x faster than G4+
512 Megabytes of data logging

 

- this is over 100x the size of prior Link ECUs**
A new version of PC Link tuning software

 

- which is easier to use and modify tunes with
Some additional upgrades, of particular interest to Engine Tuners include:
Enhanced Inputs and Outputs
Expanded frequency range of inputs and outs is larger, meaning they can pick up more information and are more responsive to inputs. The maximum digital input frequency is now in excess of 10kHz.
Math Functions
G4X uses Maths Blocks that can create simple algebraic formulas as opposed to using a set table. This will allow the tuner to write their own scripts using simple algebra. 
Fuel Table upgrades
Smoother fueling now occurs due to the fuel tables now using single precision floating point format. 
Control Loops are more precise
Anything with control loops (i.e. E-throttle, closed loop boost control, idle speed control and VVT) are now more precise.
Other updated features within G4X include:
Asynchronous injection
Dual Wideband Closed Loop Lambda available in auto mode
Individual cylinder ignition trim for distributed modes
Standard fuel and ignition cuts work for rotary motors
Faster E-Throttle control
More responsive inputs (map, TPS etc)
Faster VVT cam control
Rotary switch inputs
Log marker Direct Injection switch
Auxiliaries (including injection and ignition) can output a wider range of frequencies
Any auxilary port can now be used for VVT control
All Digital Inputs can be frequency inputs
Automatic VVT angle detection
VVT now features cold temperature compensation
Starter control has more features like a speed and clutch lockout
Idle speed features are interconnected between the different types of actuator. Plus, there are more trims available including a GP trim
Boost control now has a general purpose table, as well as the usual tables
Improved traction control
+ many more features to come.
All being said, Link maintains that the predecessors to G4X are exceptional quality and performance. The earliest generation, G1, was produced over 25 years ago and is still in action today.
Most importantly however, G4X is now our current platform of engine management. There are many more exciting software upgrades coming for this product range!
A Link ECU Dealer should be your first port of call to help you select the best ECU for your needs. Find a Dealer here.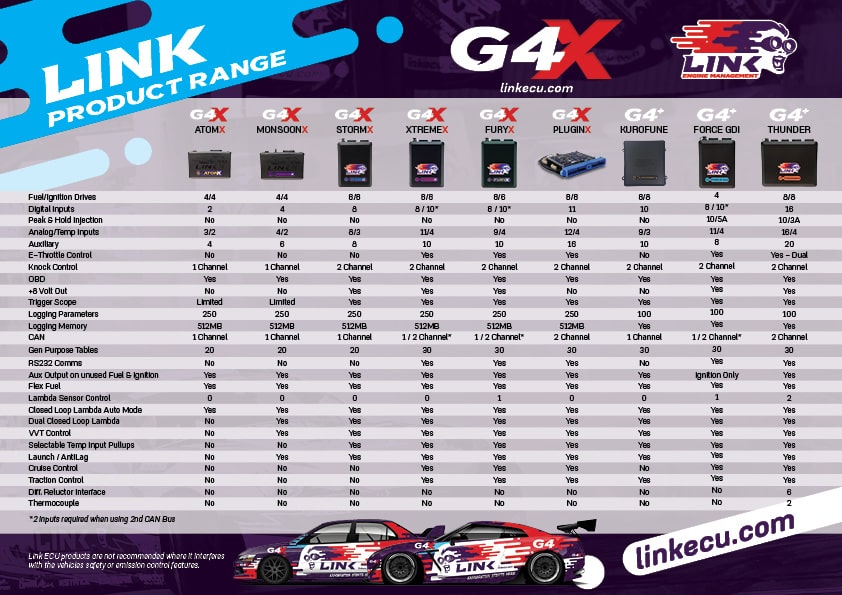 Notes: 
**G4X has 512 megabytes of logging with 32bit resolution, up to 1,000 samples per second logging rate, up to 250 channels. 
-maximum combined logging rate is 100000 samples per second across all enabled channels.
-Examples of channels possible at maximum logging rate: 
100 channels @ 1,000Hz  (100 channels total)

80 channels @ 1,000Hz + 40 channels @ 500Hz  (120 channels total)

50 channels@ 1,000Hz + 100 channels @ 500Hz  (150 channels total)


200 channels @ 500Hz  (200 channels total)

50 channels@ 1,000Hz + 50 channels @ 500Hz + 125 channels @ 200Hz  (225 channels total)