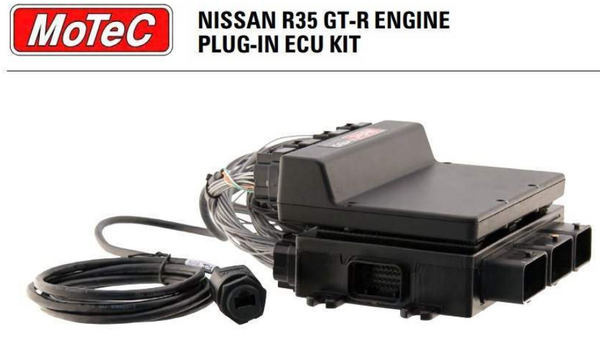 MoTeC R35 GTR Plug and Play M1 ECU Kit
Description:
M1 PLUG-IN SOLUTION NOW AVAILABLE FOR LEGENDARY GT-R
MoTeC's Nissan R35 GT-R Engine Plug-In ECU Kit is a fully programmable replacement for the factory-fitted engine ECU. No rewiring is necessary because the kit plugs straight into the stock wiring harness and uses the original sensors and fuel system.
All essential Original Equipment (OE) functions are maintained, including dashboard, VDC traction control and gearbox systems.
Compatibility
This Plug-In ECU kit has been designed for compatibility with the Nissan R35 GT-R in all geographic regions, years 2007 ? 2013. 
Features
Intelligent, next generation engine control

Quick, plug-in installation

Easy tuning with MoTeC's M1 Tune software*

Full integration with factory systems

Full cruise control capability

Torque limiting delivered via throttle and ignition control

Integrated, fully tuneable DSP knock control on individual cylinders

M1 Level 2 Data Logging with 250 MB on board memory

Data analysis via MoTeC's world renowned i2 software (i2 Pro optional)
Modifications
MoTeC has developed a Modifications Guide to assist customers wanting to replace standard parts. It is a good idea to look at this guide before selecting components to ensure they are fully compatible with MoTeC's engine management system.
The Nissan R35 GT-R Engine Plug-In ECU Kit is available in left-hand and right-hand drive variants to suit specific mounting requirements; the kit contents are the same except for differing loom lengths. Installation notes are included in the data sheet.
FREQUENTLY ASKED QUESTIONS
These common queries may help you plan your installation. Also, see our helpful Modifications Guide. 
Can I change turbos?
Yes, alternate turbos can be characterised via the Boost Aim table and PID boost control settings.
Can I use external waste gates?
Yes, however, they must be characterised via PID boost control parameters.
Can I change throttle bodies?
Yes, however, we recommend using the stock throttle bodies as these are sufficient even for high powered drag applications. Alternate throttle bodies must be fully characterised.
Can I change injectors?
Yes, as long as the injector calibrations are changed to suit. MoTeC provides standard calibrations, a limited range of injectors is recommended.
Do I need to re-tune the engine after an injector change?
As long as the injector calibrations are correct, the system will recalculate fuel delivery and only fine tuning may be required.
Can I change fuel pumps?
Yes, switch points can be adjusted to suit. In addition, an external PID controlled pump can be used, which requires a MoTeC DHB (Dual Half Bridge) to drive the pump.
Can I change plenum chambers?
Yes. A single control parameter must be changed and the efficiency may need retuning.
Can I change intercoolers?
Yes, crossover-type intercoolers are compatible but not recommended.
Can I change intercooler piping?
Yes, changes to ECU settings should be unnecessary.
Can I change the MAF sensor or sensor housing?
Yes, the calibration must accurately reflect the sensor behaviour.
Can the MAF sensors be removed?
Yes. The software can use another combination of load sensors to run the engine.
Can I change boost and MAP sensors?
Yes, as long as the calibration reflects the altered sensors.
Can I run high/low injectors?
The kit hardware has the capability, however, the feature is not available in the initial release.
Can I use stock Lambda sensors?
No, the kit includes two NTK wideband sensors and an LTCD-NTK controller for accurate and repeatable measurements.
Can I change fuel formulations?
Yes, as long as the Fuel Density and Fuel Stoichiometric Ratio calibrations are changed to suit. Flex fuel sensors are not supported in the initial release but may be in future.
Will my stock odometer and tripmeter work?
Yes.
Does Cruise Control work?
Yes, full Cruise Control is included.
Can I use this system with a stand-alone VR38DETT engine in another vehicle?
This firmware is designed for full vehicle integration with the Nissan R35 GT-R and errors will result if the associated vehicle systems are not detected. The engine may be used standalone, however, some sub systems may not function correctly.
Kit Contents:
MoTeC M150 ECU with Level 2 Data Logging and 250 MB memory

Nissan R35 GT-R Adaptor Kit (LHD or RHD) which includes:
Nissan R35 GT-R Adaptor Box
Nissan R35 GT-R Breakout Loom
M1 Adaptor Stub Looms
Network Cable RJ45
LTCD-NTK Dual Lambda to CAN module
NTK Lambda Sensor and Extension Loom x 2
Delco Air Temperature Sensor
Fastening Velcro